Having taken a break last year from painting my own stuff, aside from a few Swiss, I decided to crack on with the next project. Lots of FOGR being played at the club led to the emergence/re-emergence of quite a few Thirty Years Wars armies of which I had none. I seem to have inadvertently picked a  Spanish theme in my armies covering  about 3-400 years of history already so why not another?
Later Imperial Spanish covers the final heyday of the Spanish Empire before it all went to pot and bankruptcy what with revolting Dutch, English Seadogs and the resurgence of France. You still get excellent Spanish infantry in either tercio form or more linear formations toward the latter half of the C17th. Reasonable numbers of mounted, including some excellent cuirassiers, to hold on until the infantry win the battle.
Had a cursory look at a few 15mm ranges but was pretty certain from the off to go with Donnington(Ancient and Modern) as they are very robust figures, paint well and can be bought individually from an excellent range.
As always start with the infantry to get the bulk out of the way first. So, for the second time the white undercoat, simple paint job and a wash to finish which is all my eyesight can manage these days.  That along with Kevin Louth's excellent tip to paint by figure pose rather than unit should hopefully see these finished by the end of Spring 2016.
Started these in June and finished by November, just a little tardy in posting anything. Unlike the Later Mycenaeans  done last time these guys have an added wrinkle- steel plate rather than bronze. In all the other armies I have done I have used the metal of the figure to provide the base for armour but not possible if you white undercoat. The method I settled on was to paint the armour black then drybrush with Citadel Leadbelcher and another lighter drybrush of silver.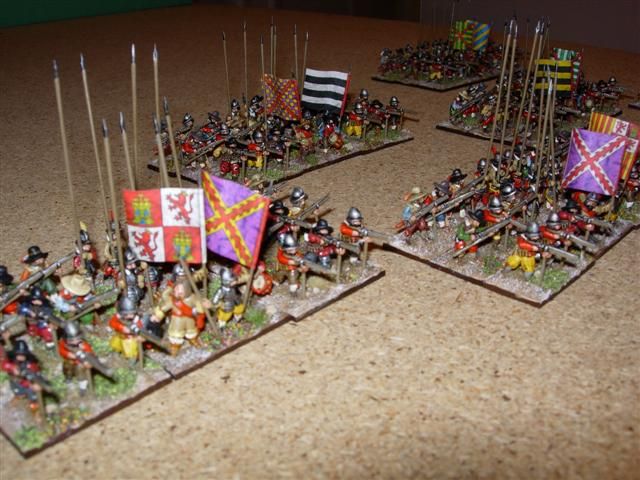 Six tercios or nine pike and shot units depending on what date you use them; 180 figures all told.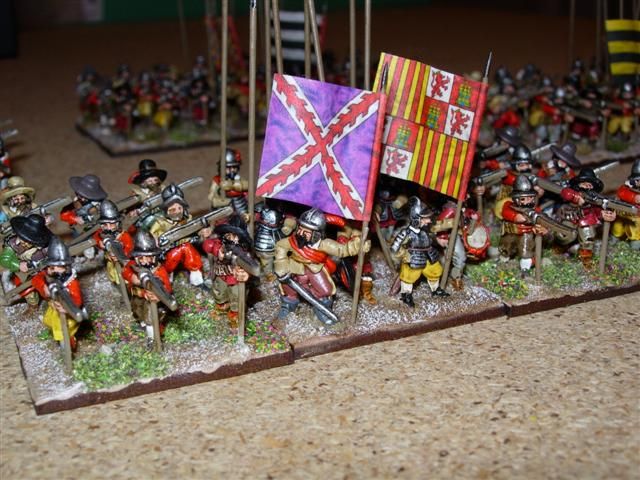 I am well into finishing off the compulsory "foreign regiment" required by the army list as well as the artillery which should all be done over Christmas.