Goblins/orcs as requested.  I can't paint this quick, this batch started two weeks ago happened to be finished last weekend.
There are three Shadow factions: Sauron, Southrons and Easterlings and Isengard and because there are only three the first two are bigger than any other.  Normally I would have done the more colourful Southrons first but there were 36 of Sauron's orcs I wanted to get out of the way first.
Never a fan of green skinned orcs so went with a pale flesh ( they don't like the sun any more than I do) dirtied up with a black then brown wash as they are not very clean and are probably pretty scabrous. Mostly funny looking plate failing to cover the vital bits, but not that intelligent either, and of course the Red Eye of Sauron on the shields.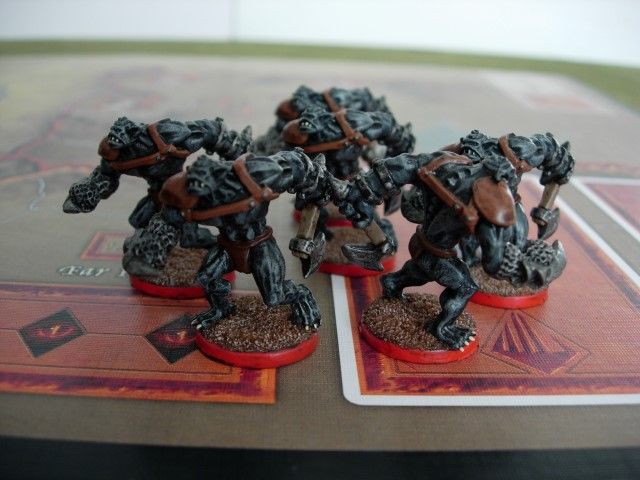 Sauron's elites are these Olog- hai trolls that are cunning and can endure the sun so I gave them a darker skin. Dangerous enough with an axe but in typical fantasy fashion they have a pointy glove thing as well All the Shadow factions just have Regulars and Elites, no Leaders, with regulars forming the bulk so that the Free Peoples elites are a greater percentage of the whole and have twice as many leaders.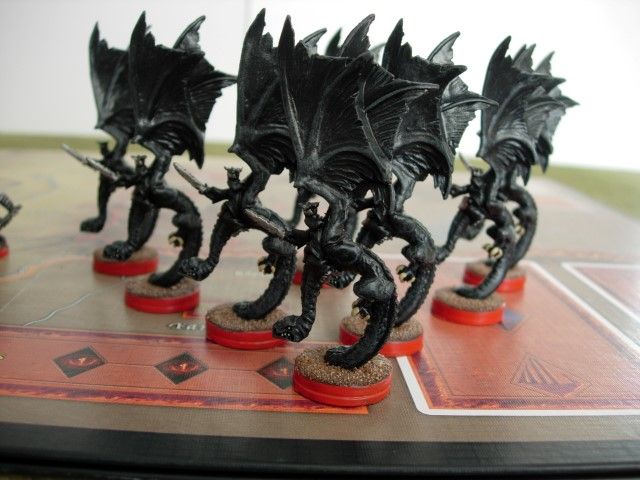 Leadership for the Shadow is provided by the Nazgul. These do not follow the 25mm scale used by most of the rest as they would be too big. These are also from the first edition of the game as they redesigned them to stop them falling over- I just added a penny piece underneath as I like these sculpts better.
The Nazgul have one big advantage in that their movement is unlimited in the game. There are only eight here as the Lord of the Nazgul is a Shadow character along with The Mouth of Sauron and Saruman who all also provide leadership. Seven members of the Fellowship also provide leadership ensuring that in one department the Free Peoples have an advantage.
All caught up with painting for now and about to have a holiday so nothing to add until September I think.